Automated factsheets for 3,000 hotels in 6 languages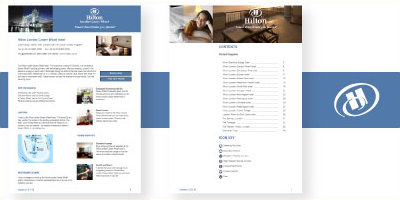 "Delivering bespoke and dynamic online eBrochures is an important step in our strategy to increase online bookings and to deliver innovative tools for our customers."
-- Mike Ashton, SVP, Marketing, Hilton International
ReportLab's eBrochure system for the global hotel chain Hilton International is a truly ground-breaking solution.
Back in 2006, Hilton were still printing a 'Global Directory' of all their hotels. It was expensive to produce, cumbersome to use, and almost immediately out of date.
The system we built to replace it is a modern and flexible alternative which allows website users to choose the hotels and information they want, and make a PDF brochure to take away in just seconds.
The system was a huge success, saving the Hilton Group £1 million over three years (Hilton International Press Release, June 2006). eBrochures have now been rolled out across Hilton's other brands, including Garden Inn, Embassy Suites, Hampton Inn, Homewood Suites, Doubletree, and Home2. Serving up brochures in six different languages, it's used by hotel staff at the point of booking and in response to customer enquiries, as well as by the public browsing Hilton's web sites. Last year alone, ReportLab produced over 4,000,000 documents for Hilton Hotels.
The system reuses content from each hotel's existing web pages, eliminating the massive workload which would be involved in maintaining factsheets manually and ensuring brand consistency across the whole range of brochure publications. We can even provide detailed post-booking confirmation brochures with travel guides for the relevant city.
The system serves several distinct types of brochures, ranging from one page 'factsheets' to extensive 'Meetings and Events' brochures which contain floor-plans and technical information showcasing the hotel's conferencing facilities.
And for those travellers who can't always get online, we even built a downloadable eDirectory application which lets you see all the facts you need, even when you're between internet connections.
See our hotel eBrochure page or try some live systems: