Castle Hall Financial Due Diligence Reports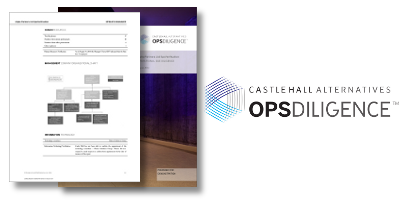 Castle Hall Alternatives specialises in operational due diligence on hedge funds, private equity and long only funds. The firm looks beyond reported investment performance to comprehensively evaluate if managers meet operational best practice standards. They help global institutional investors, fund of funds, advisors, family offices and endowments identify and manage the business, legal and operational risk of asset managers. With more than 25 professionals dedicated exclusively to operational due diligence, Castle Hall deploys one of the industry's largest and most experienced due diligence teams, supported by a sophisticated, proprietary due diligence platform, OpsDiligence.
OpsDiligence hosted platform provides access to an extremely detailed database and generates in-depth PDF reports often 50+ pages long. These were originally produced manually, however this was an approach that was simply not scaling up quickly enough as the business grew.
Castle Hall initially contacted ReportLab to automate the report production. Using ReportLab PLUS, ReportLab was able to generate the reports directly from the underlying database, allowing clients to pull down a comprehensive report literally seconds after any updates to the content. The three tiers of fund insight the company offers are automatically refreshed with this new data, with revised PDFs available for immediate client download. Clients always have access to the latest information, and Castle Hall saves a huge amount of labour.
ReportLab was then asked to advise on the streamlining of the database and application architecture.
"We came to ReportLab for the document creation technology, but it immediately became clear that they had deep knowledge of the fund management business, as well as a top-notch hosting platform meeting the security needs of financial and government clients. They have played a key part in maturing our platform, hosting the technology and mentoring our own development team as we scale up" - Chris Addy, CEO Castle Hall Alternatives
Andy Robinson, ReportLab's CEO and Chief Architect, explains: "We have been automating long, complex documents for a decade and a half. There are a number of possible approaches, including very powerful offline publishing tools from the design and print world. However, very few solutions offer the speed to let you build a contract, report or manual instantly, straight from a web server. ReportLab assimilates data into beautifully designed PDFs in seconds. This allows major changes to business processes, with both happier customers and much lower operating costs."
Some other ReportLab long-document solutions include: generating 20-page regulatory Key Features documents for every online investor on Fidelity's FundsNetwork platform, the "print/export" feature for Wikipedia, and rebuilding over 5 million pages per month of manuals every month for Citrix. With ReportLab's platform, companies serving the financial sector can focus their efforts on what they do best, safe in the knowledge that their web and publication channels will always be in sync.
For more information about Castle Hall visit: