Allenbridge Client Valuations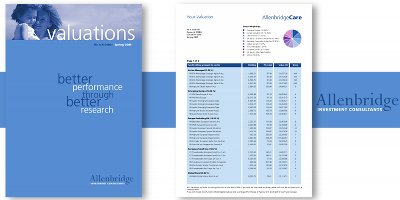 Allenbridge Group, based in Mayfair in London, is a leading Independent Financial Adviser and investment consultancy firm. When they needed an effective solution for reporting on their clients' financial holdings, they turned to ReportLab, working together with 2M Print.
Allenbridge wanted to establish a system to deliver valuations and portfolio analysis to around 15,000 clients, four times a year, as soon as possible after the end of each financial quarter.
Most financial advisers provide their clients with reports on a regular basis, but the logistical challenges of delivering attractive, accurate, personalised valuations can be overwhelming. Existing solutions usually combine output - often crude in appearance - from several different systems. So pre-printed factsheets, application forms and product literature are bundled together into cumbersome and unfriendly packs of paper, with plenty of potential for errors in printing and collation.
The ReportLab solution is simple and effective. Allenbridge uploads data to our servers where the entire set of brochures is generated using templates by fourberrys graphic design, in a matter of hours. A single PDF brochure is produced for each client, which combines valuations, fund analyses, and other matters of interest in a single, attractive booklet. The PDFs go straight to 2M Print's HP Indigo digital press, before being mailed out to clients.
Allenbridge have saved countless man-hours in preparations and now give their clients completely personalised, professionally printed valuations with the added benefits of being:
Accurate
Email-friendly
Easy to audit
Fast
Green
Cost effective