Langham Hotels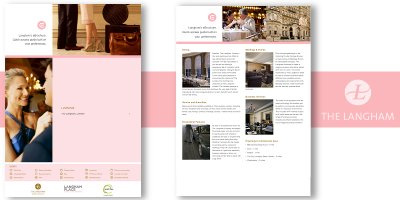 Langham International, based in Hong Kong, is a fast-growing luxury hotel chain, and The Langham, London is one of the oldest and best known city-centre hotels in the world.
Langham pride themselves on a personalised experience for all their guests, and thanks to ReportLab, that experience now extends as far as their hotel brochures. Travelling on business? Choose to include a section on business facilities. Interested in leisure? Include a local destination guide, showing up-to-date attractions and events happening during your stay. Include a friend's name on the brochure's cover, and mail it to them, directly from the site.
This convenience isn't just for Langham's customers. The system is incredibly easy to administer, and Langham's staff benefit from a state of the art, edit-in-place web interface which is intuitive and friendly to use, minimising time spent on technical administration and staff training.