Fidelity - Financial Statements and Valuations.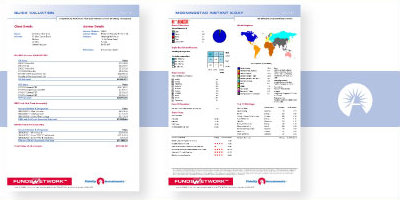 The client: One of the biggest names in international investment management, Fidelity International.
The problem: Their brokers want to create good looking custom statements, valuations and portfolio summaries, on the fly, via the web, fast.
The data: Spread across multiple sources and formats.
The solution: ReportLab.
We delivered an unparalleled experience for Fidelity's brokers, giving them the means to deliver attractive, personalised and branded statements and complimentary documents to their clients in seconds
Our solution replaced an expensive system of request and mail with something less costly and yet far more satisfying for the end-user. The ability to white-label individual documents, and print singly or in a batch were also part of the 'killer functionality' which Fidelity's brokers loved.