TrueCar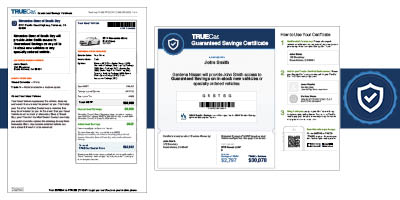 TrueCar is an innovative vehicle pricing and information website used by car buyers and dealers throughout the USA. The company aims to simplify the car buying process by collating recent sale prices for new and used cars from across the country. Their website and app allow users to compare prices for thousands of makes and models across a network of certified dealers. The company is estimated to have a hand in 2.3% of all car sales in the USA. In 2013 almost 400,000 new and used vehicles were bought through the TrueCar network.
"When our customers are ready to purchase a vehicle, they can either take their mobile device or a physical printed copy of their savings certificate to the dealership. For the printed certificate, we've been using ReportLab plus to generate a much more professional-looking document than what's possible by printing HTML" - Keith Bussell, Vice President, Product Development
Using ReportLab PLUS, TrueCar are able to pull data from across their web platform into templates that generate beautiful PDFs in under a second. As the business has scaled up, they are now generating over a million certificates every month.
Predefined style sheets and logic rules control the look and flow of content with barcodes drawn in dynamically for every customer. By integrating directly into data sources, ReportLab PLUS has low overheads versus other systems and overcomes many of the limitations inherent in HTML/CSS. This results in beautiful, accurate PDF output delivered at very high speed.
"Thanks again for your great product! It makes our lives a lot easier." - John Williams, Senior Vice President, Platform Operations.