Fidelity - Key Features Documents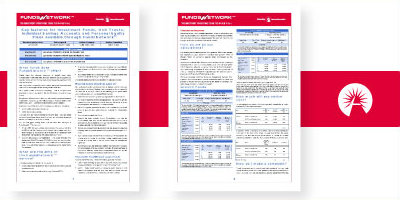 Fidelity International is a major player in the international investment management sector. Like all UK fund managers, they have a legal requirement to generate 'Key Features Documents'. These are a type of fund prospectus - complex documents containing various text, charts and forecast calculations which change according to an investor's specific situation. This has to be done every time an investor makes a purchase on the web and prior to any sale by a financial adviser.
When Fidelity launched their online "fund supermarket" in 2000, selling 800 funds from 40 different providers, the old approach of using static documents became unworkable. ReportLab was invited to develop a solution for KFD generation which could cut through the complexity while scaling up to handle the heavy demands which are inevitable at the end of every tax year.
Fidelity now has a single hub for producing compliant, up-to-date and personalised documents across all their business channels. ReportLab's solution generates the right document - whether at the point of sale on the web; in pre-sales marketing literature; or in HTML for their static web site. Compliance officers need only check the text engine once, freeing Fidelity's web and business staff from the tedious maintenance work of publishing multiple versions of each document.
This was the first solution developed using ReportLab Markup Language™, our XML-based development tool for making PDF creation as easy as web development. Fidelity's KFD system continues to be used daily by investors and advisers across the globe.