The Harwood Game Company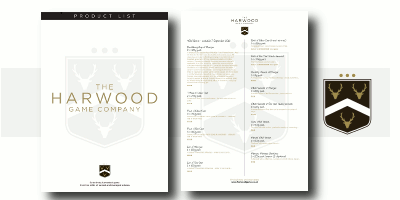 The Harwood Game Company is is the brainchild of Mike Robinson, Brett Graham and Alan Hayward, the two co-owners of the Michelin-starred Harwood Arms in Fulham, and the UK's foremost butcher and game dealer. The company sells wild venison and game and is committed to changing the way we think about buying and eating game in the UK. Products come and go regularly.
A technical solution to the promotion and catalogue needs of the business had to be flexible and professional, to cope with constantly changing products, offers, and promotions and to continually update the product list. The premier quality meats are time-sensitive, so comprehensive dating and tracking of catalogues and flyers is paramount.
With designs from Design Motive, ReportLab serves The Harwood Game Company with updated flyers and product lists on-demand, taking data from the web database and outputting gorgeous PDF documents. This system gives ownership of the content to the relevant departments, from packing orders with the latest flyers and order summaries to marketing needing the latest catalogues. The latest versions are produced with a simple click.
Generate the very latest flyer here! Enjoy the website here!