Newcastle University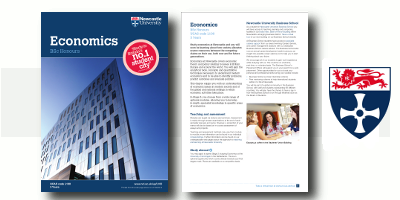 Universities today offer hundreds of courses to a widely diverse audience. With increasing concerns over the costs of bulk printing and the inefficiency of manually copying content, a more rational way to manage and publish content is in demand across the higher education sector.
ReportLab's university publication platform was originally implemented for University College London (UCL) in the Summer of 2011. UCL were feeling the unsustainability of duplicating marketing content and were struggling to keep communications consistent across all channels. ReportLab's solution allowed UCL to leverage their online assets quickly and easily across both web and print, and subsequently Newcastle University approached ReportLab to provide a similar solution.
Behind the scenes, a feed of Newcastle's content is pulled into ReportLab's system and automatically processed into a print-ready form. When brochures are requested, the content is assembled in seconds based on standard templates to produce a PDF. The system is able to fill empty space and rearrange the layout to accommodate length variations in the text, so that every brochure has the look and feel of a manually assembled document, without any of the effort.
It's a big step towards streamlining content management and publications in higher education, which still suffers from some huge inefficiencies in these areas. Publications should be simple extensions of the website; powered by the same content, carrying the same brand, and customised for each individual user.
To see a sample programme page with a link to a fact sheet, click here.